Freshcaller is a cloud-based call center solution that helps businesses of all sizes provide excellent customer service. With Freshcaller, you can:
Reach your customers anywhere in the world: Freshcaller has a global reach, so you can reach your customers no matter where they are.
Customize your call center to your needs: Freshcaller is fully customizable, so you can set business hours, add greetings and queue messages, and more.
Quickly connect callers with an agent: Freshcaller's multi-level IVR system quickly connects callers with an agent available at that time, ensuring faster resolution.
Empower your customer support and sales teams: Freshcaller's call management system gives your customer support and sales teams the tools they need to work remotely or from the office, including number management, custom reporting, inbound call routing, and supervisor control.
Freshcaller is a comprehensive call center solution that can help you improve your customer service and boost your business.
Here are some additional details about Freshcaller's features:
Virtual phone numbers: Freshcaller lets you purchase virtual phone numbers in over 100 countries, so you can appear local to your customers, no matter where you are located.
Call routing: Freshcaller lets you route calls to the right agent based on their availability, skill set, or other criteria.
IVR: Freshcaller's IVR system can answer common questions, collect information from callers, and route calls to the right department.
Call recording: Freshcaller records all calls, so you can listen to them later for training or quality assurance purposes.
Reporting: Freshcaller provides detailed reports on call volume, call length, and other metrics so you can track the performance of your call center.
Freshcaller is a powerful call center solution that can help you improve your customer service and boost your business. If you're looking for a comprehensive call center solution, Freshcaller is a great option.
Unique Functionalities of Freshcaller Call Management System
Centralized management of all inbound & outbound calls
Simplified collaboration for faster issue resolution
Reduced call abandonment with speedy replies
Service level monitoring and customizable reports
Omnichannel customer service experience
Pricing of Freshcaller Call Centre Software
Blossom: It charges ₹999 per user, annually. ₹1,399 per user, on a monthly basis.
Garden: It charges ₹1,999 per user, annually. ₹2,799 per user, on a monthly basis.
Estate: It charges ₹3,299 per user, annually. ₹4,299 per user, on a monthly basis.
Forest: It charges ₹4,999 per user, annually. ₹7,199 per user, on a monthly basis.
If you want to use the services offered by Freshcaller, send us a callback request.
Compatible Platforms of Freshcaller Call Management System
Freshcaller is a web-based software that can be accessed from any web browser on a desktop.
Useful Features of Freshcaller
Some Freshcaller features that make it stand out when compared to Freshcaller alternatives are:
About Freshcaller App
Freshcaller mobile app is available on both Android and iOS phones to stay connected with customers and provide support on the go. This decreases the chance of missed calls too. Use the same account for Freshcaller signup that you have and enable call routing, IVR, and smart escalations on your phone. Just enter your Freshcaller account URL and credentials in the app for Freshcaller login. Its main features include
Intuitive Dashboard: Freshcaller features an intuitive dashboard, enabling the managers and admins to view the list of customers who are waiting in the queue, on-going calls and the status of onboard agents in real-time.
A complete history of interaction with customers: The software enables its users to view a detailed history of the conversations between their agents and customers. This feature also helps the agents to get a glance at the previous conversations and offer a quick solution to similar problems.
Call Masking: Freshcaller allows its users to mask their existing phone numbers with an alternative number while providing support across different regions.
Supervisor Controls: Freshcaller features a wide variety of tools and resources for the supervisors and managers. This enables them to monitor all the conversations, barge into live calls and channelize the call queues as per their needs and requirements.
Developer friendly UI library: The software helps its users deliver a consistent customer experience by offering them a developer-friendly UI library. They also get to integrate with external apps in a seamless manner.

User friendly interface
Making or receiving calls
Viewing multiple incoming calls
On-call functions like transferring calls, mute, hold
Recording calls
List of recent calls
Navigation to other screens in app while on call
Dialing saved phone contacts
Set agent status by toggling between being online and offline
Adding call notes to CRM lead entry
Convert your important and unresolved calls as tickets in Freshdesk
Viewing call summary
Freshdesk Contact Center Pricing & Plans
| Plan | Features | Price (annually) | Price (monthly) |
| --- | --- | --- | --- |
| Free | Basic call management features, up to 2000 free incoming minutes/month | Free | Free |
| Growth | All features of Free plan, plus up to 3000 free incoming minutes/month, multilingual support, voicemail, and collaborators | $39/agent/month | $47/agent/month |
| Pro | All features of Growth plan, plus unlimited free incoming minutes, call queues, IVR, and advanced analytics | $69/agent/month | $83/agent/month |
| Enterprise | All features of Pro plan, plus custom branding, SLAs, and dedicated support | Contact Freshdesk for pricing | Contact Freshdesk for pricing |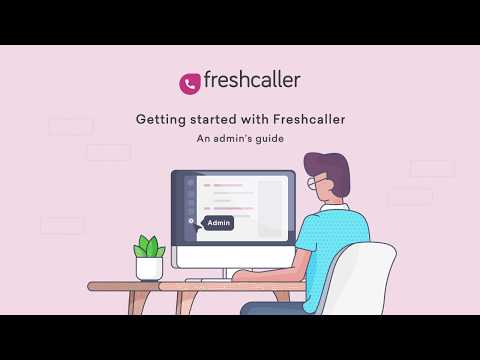 Freshdesk Contact Center Features
Call Recording Opt-out
Freshcaller offers an IVR keypress that registers the customer's choice, enabling them to opt-out from recording their phone
Agent Availability Report
The intuitive dashboard by Freshcaller allows the users to check the availability of agents, current status, etc.
Abandoned Call Metrics
Users can track the exact reasons behind call drops with the abandoned call metrics offered by the software.
Smart Answer Bot
Freshcaller offers a smart answer bot known as Freddy. That is capable of giving instant answers round the clock.
Multilingual Support
Agents can select the language of their choice from the profile settings page and provide adequate support to their customers.
Inbound Call Center
The agents can offer a more contextual support to their callers as they get to view the caller names, their phone numbers.
Number Porting
Freshcaller allows its users to continue their services with their old numbers. They can port numbers from regular service
Basic Call Queues
Users can customize the flow of calls for a specific team and assign a particular number to them using the basic call queues
Wait Queues
The wait queues feature of the software enables the customers to reserve a slot for them at times when the agent is busy with a
Freshcaller enables its users to offer customized voicemail service (greetings, specific terms), enabling them to continue their
Warm Transfer
By using Freshcaller, agents can provide detailed customer-related information to the new agent, by using the warm transfer
Call Recording
Users can record the calls attended by their agents and use the data for further training, survey and quality checks.
IVR Facility
The advanced IVR facility offered by the software enables its users to route the calls from their customers to their agents and
Call Monitoring
Users can monitor live calls attended by their agents to assess the services that they offer to the callers.
Fully Custom reports
Freshcaller offers detailed reports to its users and their team. Users can filter out call details, status and other relevant
Call conferencing
Agents can add a member from their team during a live call with a customer in order to avoid the hassles of call transferring and
SIP Connections
Freshcallers allows the agents to receive the calls from customers directly on their SIP devices.
Holiday Routing
Users can continue with their services even during the holidays by planning out their schedules with the advanced holiday routing
Advanced Call Metrics
Freshcaller enables its users to view and manage their call logs, call lifetime metrics and maintain all the billing-related
Call Barging
With the call barging feature of the software, managers get the right to barge into a live call from the admin dashboard and
Call Center Agent Statuses
The software automatically updates the agent's status to After Call Work (AWC) post a call completion, enabling the agent to
Queue Callback
With Freshcaller, you can allow your customers to send in a callback request during rush hours when all the agents are busy with
Omnichannel Routing
The omnichannel routing feature of the software uses an intelligent routing algorithm to assign customer queries from different
Service Level Monitoring
Admins can monitor the services offered by their agents and make necessary changes from anywhere across the globe by using the
Speech Enabled IVR
Users can record IVR prompts and sync them with Freshcaller by using its inbuilt voice recording or text to speech feature.
Email, social, chat, phone channels
The omnichannel customer support system allows agents to get connected to the customers over email.
Agent Scripts
Freshcaller allows the agents to communicate with customers based on script-based replies for common queries.
Email Bot & Chatbots
Users get to contextually engage their customers with the help of email bots and chatbots offered by the software.
IP Whitelisting
By enabling the IP Whitelisting feature of the software, users can restrict the logins within their support portal by mentioning
Freshdesk Contact Center Specifications
| Specification | Value |
| --- | --- |
| Supported Platforms | Web, mobile, desktop |
| Device | Laptop, desktop, smartphone, tablet |
| Deployment | Cloud |
| Suitable For | Businesses of all sizes |
| Business Specific | Freshdesk Contact Center can be used to manage customer interactions across multiple channels, including phone, email, chat, and social media. |
Freshdesk Contact Center FAQ

Q. How is the call note feature of Freshcaller useful for its user's business?
A. The call note feature of the software allows the agents to take detailed notes of all the calls attended by them. This note enables them and the fellow agents to offer a quick solution when faced with a similar problem.

Q. What type of in-call actions are offered by Freshcaller?
A. The agents can put a live call on hold, mute it while transferring the call to another agent or searching for a relevant solution to the problem faced by the caller.

Q. Can I get Freshcaller demo online?
A. Yes, Freshcaller Appprovides an online software demo .

Q. How is the team monitoring feature of Freshcaller useful for its users?
A. Users can supervise their teams and benchmark their performance on a regular basis, based on the kind of service they provide to the customers. Managers can efficiently track the problem areas and offer quick solutions to them.

Q. Does Freshcaller have a mobile app?
A. Freshcaller does not have a mobile app as of now.

Q. Is there any Freshcaller app?
A. Yes, Freshcaller has a mobile app for both Android and iOS phones.

Q. How do you view voicemail transcripts in Freshcaller?
A. To view Freshcaller voicemail transcriptions, login to your Freshcaller account. Go to Call Metrics tab. If you see a voicemail transcription icon next to the number of a customer, click on it to open the call details section. Otherwise, you can click on the play recording icon to listen to the customer's message. For viewing all voicemail transcripts from a number, filter the call by the number and select call type as voicemail.